We just learnt that the FDA has pushed back its decision day on Sanofi SA (ADR) (NYSE:SNY)'s insulin combo candidate IGlarLixi. Markets haven't moved too much on the news (at least, not yet), but there is a general air of surprise surrounding the delay.
Sanofi was pushing to get the product approved ahead of Novo Nordisk A/S (ADR) (NYSE:NVO) competing product, IDegLira, and spent a $245 million priority review voucher ahead of submission to that aim. Now it looks as though there's going to be practically no difference between the two products' review dates.
This isn't the biggest worry for Sanofi, however. The issues that have led to the delay may, in turn, lead to the FDA declining the drug come PDUFA. Here's why.
The extension is rooted in the device used to administer the combination of insulin glargin and the GLP-1 receptor agonist Lixisenatide. It's a pen type injectable, with a dial based dosing system. There are two pens available, each of which offer a different min-max dose range.
Here's what they look like: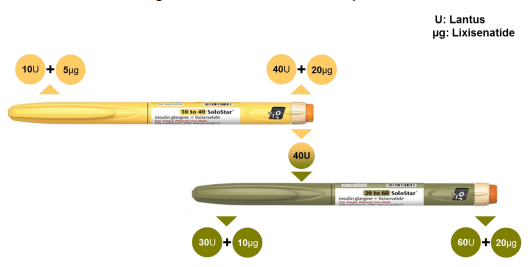 They are designed to deliver a dose based on a patient's selecting of an insulin dose (as measured in units). The patient uses the scroll mechanism to select their insulin unit number and the pen automatically selects the corresponding dose of Lixisenatide. The yellow pen is a lower dose range (10U-40U) and is targeted at insulin naïve patients, and the green pen is higher dose range (30U to 60U) and targeting those who require higher daily dosing. That all seems relatively simple, right? Well, yes, until we look at the proposed labeling on the scroll system: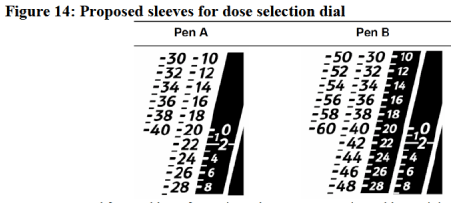 The company has gone for a seemingly strange black/white indication system, designed to show recommended dosing. Doses within the recommended dose range are black writing on white background. Doses below the recommended dose are white writing on black background. The point of this convoluted approach is to discourage dosing errors, but to us, it looks like there is considerable room for human error. The advisory panel agrees:
"It should also be noted that the numbers that are darkened on the pen dial are meant to represent doses that are not established as safe and effective and that should not be used. It is unclear whether this device design element will have the effect it is intended to have (i.e., preventing dosing errors) in the care setting."
Follow Sanofi Aventis (NYSE:SNY)
Follow Sanofi Aventis (NYSE:SNY)
We may use your email to send marketing emails about our services.
Click here
to read our privacy policy.