It's every junior biotech company's dream to be accepted into an accelerated approval pathway for a potentially blockbuster drug. Very few achieve it. Even fewer achieve two accelerated approval pathways for the same drug in two different regulatory jurisdictions. Going even further, how many get a multimillion dollar grant for the very pivotal trial meant to grant that accelerated approval?
Pluristem Therapeutics Inc. (NASDAQ:PSTI) has achieved just that, hitting for the cycle so to speak, with two accelerated approval pathways for its PLX-PAD placental cell treatment for critical limb ischemia (CLI). Back in May of 2015, Pluristem was accepted into the European Medicines Agency's (EMA) Adaptive Pathways pilot project for this indication. The program allows for conditional approval based on limited data from a subpopulation of patients deemed to benefit most from an experimental treatment, followed by post-marketing expansion into wider patient populations.
The program itself is brand new, and in retrospect – the pilot stage of the project is now closed – has proven highly restrictive. Even the EMA itself did not know which companies it would accept and which not, and has only last week on August 3 published a hindsight report advising companies as to how to apply, which companies and indications have a better chance of acceptance, and general procedures to follow. By the end of the pilot stage, 62 applications were collected and only 6 accepted, for an acceptance rate of less than 10%.
As if that weren't restrictive enough, in December of last year, Japan's Pharmaceuticals and Medical Devices Agency cleared a Phase II 75-patient PLX-PAD trial for CLI structured for conditional marketing approval upon successful conclusion as well. This is a structurally similar approval pathway to the European Adaptive Pathways project that includes post-marketing approval expansion upon collection of further data.
Finally, piling on to Europe and Japan, the U.S. Food and Drug Administration (FDA) has also given its own green light to Pluristem on August 2 for the same drug in the same indication, using data from the very same trial as a Phase III pivotal. Practically, this means that two trials, one of 250 patients in the U.S. and Europe, and another of 75 in Japan, could clear PLX-PAD for marketing in three of the largest markets in the world in one stroke. All this, plus an $8 million grant from Europe's Horizons 2020 program just announced for the U.S./European trial will fund most of it without Pluristem having to spend much out of pocket.
Why Pluristem Therapeutics Inc. (NASDAQ:PSTI) Is Still Near Its Lows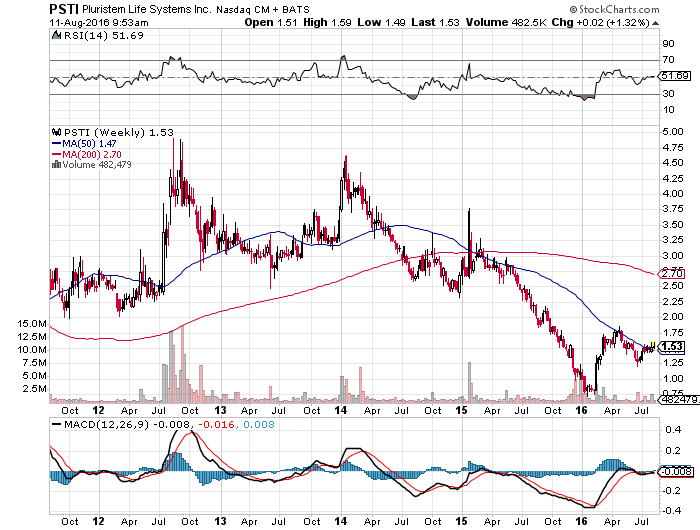 Follow Pluri Inc. (NASDAQ:PLUR)
Follow Pluri Inc. (NASDAQ:PLUR)
We may use your email to send marketing emails about our services.
Click here
to read our privacy policy.