The bidding war for the joint venture company Hulu has just ratcheted up – again. The second-largest American pay TV service, DIRECTV (NASDAQ:DTV), is reportedly offering upwards of $1 billion to acquire Hulu. Other companies currently jockeying for position in this war include Time Warner Inc (NYSE:TWX) and Yahoo! Inc. (NASDAQ:YHOO), among others.
As the Hulu board deliberates over at least seven buyout offers, consider this: how will a Hulu buyout reorient the constellation of online video streaming? Hulu has grown dramatically in the United States and is certainly an attractive takeover target, as evidenced by its seven suitors. Whoever ends up with Hulu will be competition for Netflix, Inc. (NASDAQ:NFLX). However, Hulu is a website that currently serves only the United States. In the short term, a Hulu buyout will probably not pose much of a threat to any company with a strong international presence.
Background on Hulu
Hulu is a subscription service that offers ad-supported on-demand video streaming. It is owned by The Walt Disney Company (NYSE:DIS), News Corp (NASDAQ:NWSA), and Comcast Corporation (NASDAQ:CMCSA). Several companies are apparently willing to jump through hoops to acquire it as Hulu had a very successful 2012 and continues to grow: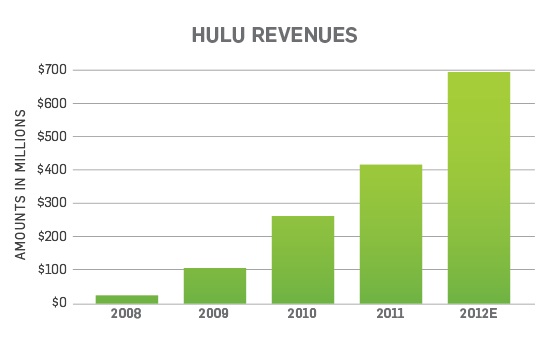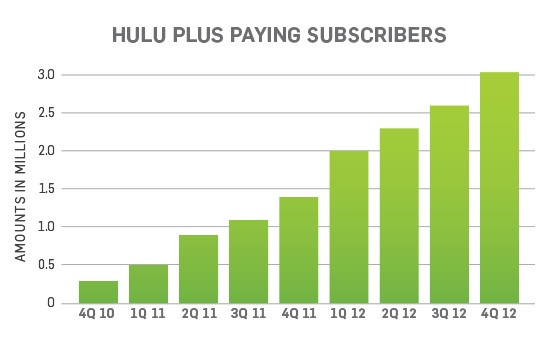 Hulu garnered $695 million in revenue in 2012 – a 65% increase over 2011. Hulu currently has 3 million subscribers to its Hulu Plus service and rolled out Hulu Plus on Apple TV, Windows 8 tablets, Nintendo Wii and Wii U, and many Android tablets and phones in 2012.
The impact of a potential buyout
Hulu has demonstrated a propensity to continue to grow at a solid rate. Thus, whoever buys Hulu has a good chance of getting on the boat – and so do investors of the company that prevails.
Admittedly, there is no way for us to find out what package Hulu is leaning towards because the deliberations are private. Hulu is reportedly planning on narrowing down the options to three or four proposals over the next few weeks. However, it is possible to analyze the potential impact a Hulu buyout will have on the market and individual companies moving forward.
A Hulu buyout will put the buyer in direct competition with Netflix – but only in the United States. Hulu and Netflix are already competing for consumer dollars and eyeballs. The market for content, particularly exclusive content, has heated up over the last couple years. However, Netflix is a much larger operation than Hulu – over $3 billion in revenues for Netflix, versus $695 million for Hulu. Netflix could be able to absorb the impact of some of its users going to Hulu short-term because of Netflix's international presence. In fact, some consumers might even decide to use both Hulu and Netflix.