Twilio Inc (NYSE:TWLO) stock might look cheap at these levels, but you should avoid the stock for now. Here's why.
– Twilio has some competition.
– Twilio is using signaling theory to show its relevance.
– Wait for the market structure to give you a clue.
I found this interesting. Many investors appear to be exuberant about Twilio Inc (NYSE:TWLO). Can it really be considered a game changer? Not exactly, and I'll explain why. Before considering Twilio, consider the competition it has against the 4 competitors I've listed. Customers are typically price sensitive, so the higher costs that come with using Twilio may not bode well for the company.
Twilio might have brought in some uniqueness by allowing its "software developers to programmatically make and receive phone calls and send and receive text messages using its web service APIs." However, it's not really revolutionary or adequate on a standalone basis.
Technically speaking, the business model used by Twilio is known as a regular business model. A regular business model has relative lower potential to render existing capabilities obsolete, and lower possibility to render existing products noncompetitive. Think of Dell's PC model versus other computer manufacturers. This type of business model offers additional value to the customer but does not take value away from other existing business models. Which is why pricing becomes critical. Here's how Twilio stacks up against its competitors (Source: GetViop.com).
Looking for interesting IPOs? Check out our coverage of the most talked about Tech IPOs (1).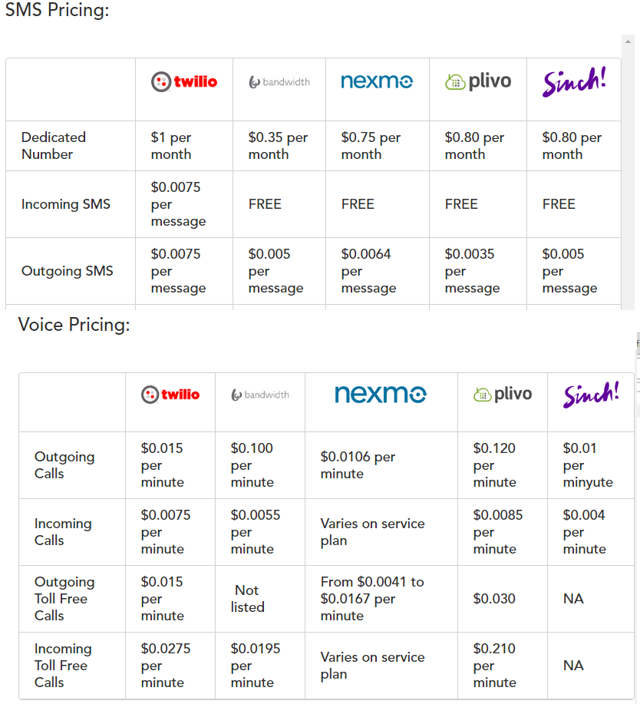 How Twilio Is Succeeding
For companies to succeed, partnerships and alliances are a must. The recent announcement (2) of an expanded partnership with Amazon.com, Inc. (NASDAQ:AMZN) suggests that trust is building between the companies. Normally, companies form alliances before acquiring companies. Alliances are the intermediary step. It is during this phase that companies are trying to seek knowledge flows and transfers. The more success they meet with, the greater the likelihood of a potential buyout, in general. Thus, an expanded partnership between Amazon.com, Inc. (NASDAQ:AMZN) and Twilio is indicative of Amazon's potential interest in the company, theoretically speaking. Amazon has over 30% market share in the cloud space, which will help Twilio expand its reach even further.
Follow Twilio Inc (NYSE:TWLO)
Follow Twilio Inc (NYSE:TWLO)
We may use your email to send marketing emails about our services.
Click here
to read our privacy policy.