Twilio Inc (NYSE:TWLO) stock might look cheap at these levels, but you should avoid the stock for now. Here's why.
– Twilio has some competition.
– Twilio is using signaling theory to show its relevance.
– Wait for the market structure to give you a clue.
I found this interesting. Many investors appear to be exuberant about Twilio Inc (NYSE:TWLO). Can it really be considered a game changer? Not exactly, and I'll explain why. Before considering Twilio, consider the competition it has against the 4 competitors I've listed. Customers are typically price sensitive, so the higher costs that come with using Twilio may not bode well for the company.
Twilio might have brought in some uniqueness by allowing its "software developers to programmatically make and receive phone calls and send and receive text messages using its web service APIs." However, it's not really revolutionary or adequate on a standalone basis.
Technically speaking, the business model used by Twilio is known as a regular business model. A regular business model has relative lower potential to render existing capabilities obsolete, and lower possibility to render existing products noncompetitive. Think of Dell's PC model versus other computer manufacturers. This type of business model offers additional value to the customer but does not take value away from other existing business models. Which is why pricing becomes critical. Here's how Twilio stacks up against its competitors (Source: GetViop.com).
Looking for interesting IPOs? Check out our coverage of the most talked about Tech IPOs (1).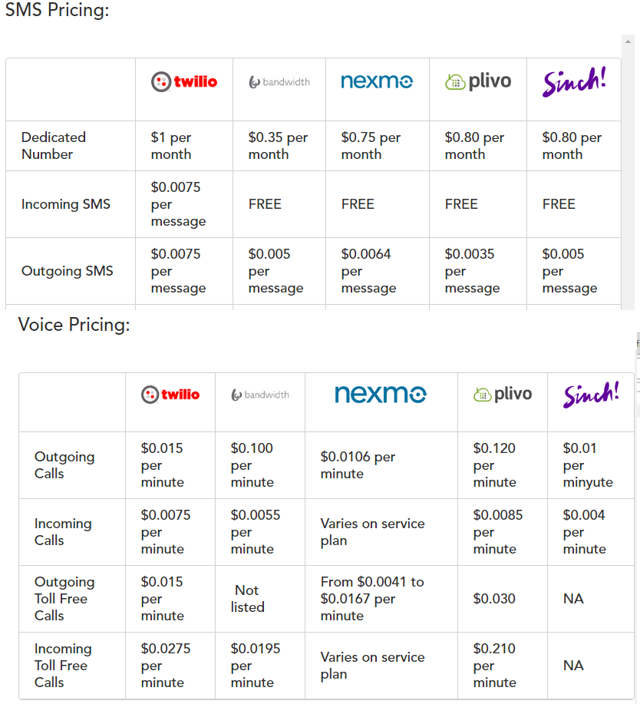 How Twilio Is Succeeding
For companies to succeed, partnerships and alliances are a must. The recent announcement (2) of an expanded partnership with Amazon.com, Inc. (NASDAQ:AMZN) suggests that trust is building between the companies. Normally, companies form alliances before acquiring companies. Alliances are the intermediary step. It is during this phase that companies are trying to seek knowledge flows and transfers. The more success they meet with, the greater the likelihood of a potential buyout, in general. Thus, an expanded partnership between Amazon.com, Inc. (NASDAQ:AMZN) and Twilio is indicative of Amazon's potential interest in the company, theoretically speaking. Amazon has over 30% market share in the cloud space, which will help Twilio expand its reach even further.
Follow Twilio Inc
Follow Twilio Inc
We may use your email to send marketing emails about our services.
Click here
to read our privacy policy.
Twilio Inc (NYSE:TWLO) isn't solely relying on Amazon.com, Inc. (NASDAQ:AMZN) to boost its profitability, it has partnerships with other well-known companies as well, like Netflix, Inc. (NASDAQ:NFLX), Twitter Inc (NYSE:TWTR), and Uber. It is using signaling theory to let wary users, unfamiliar with or skeptical about the company, know that other recognizable brand names trust it. This is a well-known way for relatively small companies to obtain customers.
Wall Street is sending out the usual "this is the greatest opportunity" message. However, history has shown that most IPOs tend to underperform. Recall that most "hot" companies such as Twitter, Square, and GoPro were hyped, and have under performed post IPO. Even the profitable Alibaba has not been able to surpass the high it made, after its lock up period expired.
Observe what is happening to the stock now. It is following in the footsteps of its brethren. The stock is in a downward spiral. In my previous article, I wrote about market structure (3). I think it would be prudent to wait for a hedge fund to signal a buy, which they typically do after hours. It will signal to you that fundamentally, something has changed with the company. (Also Read: Is Twilio headed for a massive short squeeze?)
Recall what happened with Yelp Inc (NYSE:YELP) when Einhorn purchased it according to a May 2 investor letter, 3 days before the company's earnings were revealed. See where the stock is currently trading. This is understanding market structure. You had many factors in alignment. Though, I cannot bring it up here, I remember options activity being high at a higher strike level. You would not have entered the stock prior to the earnings release. It would have been after the earnings when the picture became clear. I am looking for a somewhat similar scenario to get a clear picture of Twilio. Otherwise, it is just guessing.

David Einhorn
Greenlight Capital
We may use your email to send marketing emails about our services.
Click here
to read our privacy policy.
I would not assign too much importance to analysts' opinion given the age and size of the company. Analysts take things for granted, and their valuation models are extremely easy to break. That is why they have to run them multiple times. There is a very well known research on disruptive radical innovation which shows that any major acquisition event or change in the business model results in a flawed model and prediction. These models are only useful if there are no surprises. Given that Twilio Inc (NYSE:TWLO) is trying to grow, you are going to have a lot of surprises and revisions.
Looking for great technology stocks? Check out our tech stock picks, which have beaten the NASDAQ by over 110%.
The article Why You Shouldn't Buy Twilio Inc (TWLO) Stock Yet originally appeared on amigobulls.com. Watch our analysis video on TWLO
Amigobulls.com – Watch, Analyze, Invest. Why spend hours putting together numbers you can get in minutes, in one simple video? Our 'Robo Advisor' videos give you every number that matters, in 1 minute. Find insightful articles with ideas on investing, top stock picks that outperform the markets, personalized portfolio analysis videos and a whole lot more. Amigobulls.com – Your Friend On Wall Street.
We may use your email to send marketing emails about our services.
Click here
to read our privacy policy.
Additional Links:
(1) http://amigobulls.com/articles/category/ipo?ref=il&ref=im
(2) http://amigobulls.com/articles/is-twilio-inc-twlo-stock-headed-for-a-massive-short-squeeze?ref=il&ref=im
(3) http://amigobulls.com/articles/fundamentals-really-driving-amazon-com-inc-amzn-stock-higher?ref=il&ref=im
DOWNLOAD FREE REPORT: Warren Buffett's Best Stock Picks
We may use your email to send marketing emails about our services.
Click here
to read our privacy policy.