The first quarter earnings season for retail has certainly been a bit of a mixed bag. Two of the largest retailers in the US, Wal-Mart Stores, Inc. (NYSE:WMT) and Target Corporation (NYSE:TGT), reported negative same-store sales revealing cautious spending patterns from American consumers. On the other hand, home improvement giant The Home Depot, Inc. (NYSE:HD) registered wonderful sales gains as the firm continues to ride the housing recovery. Let's take a look at the results of some retailers leveraged to discretionary income.
Urban Outfitters, Inc. (NASDAQ:URBN)
Urban Outfitters, Inc. (NASDAQ:URBN) posted a solid first quarter, even though its revenue was slightly lighter than expected. Revenue rose 14% year-over-year to $648 million, driving earnings growth of 39% to $0.32 per share. A 120 basis point increase in the firm's gross margin coupled with 80 basis points of fixed cost leveraging helped increase operating margins 200 basis points compared to the same period a year ago (to 11.2%).
Retail comparable store growth was fantastic, with a 9% aggregate comp growth rate during the period. Flagship Urban Outfitters, Inc. (NASDAQ:URBN)' retail comp sales were up 6%, while home decorum brand Anthropologie's comp sales were up 8%. While we at Valuentum like both brands, particularly Anthropologie as the housing market recovers, Free People is doing incredibly well, as comp sales at the brand rose 44% year-over-year. Free People is well-differentiated from the other brands, in our view, and its styles won the hearts of women during the spring season.
Although fashion retailing can be a fickle business, we think the brand has a lot of momentum behind it at the moment, and we see little signs of it slowing. With a number of potential product expansions, we're optimistic that Free People could be a long-term growth driver for the company.
Although we're seeing Urban Outfitters, Inc. (NASDAQ:URBN) make a comeback led by increasing success in e-commerce, stronger margins at Anthropologie, and great potential at Free People, we don't think shares look attractive at current prices.
The TJX Companies, Inc. (NYSE:TJX)
The parent of popular stores TJ Maxx, Marshall's and HomeGoods, The TJX Companies, Inc. (NYSE:TJX) remains one of the greatest retail businesses in Valuentum's coverage universe. The firm reported results for its fiscal year 2014 first quarter, with sales growing 7% year-over-year to $6.2 billion and earnings per share 13% year-over-year to $0.62.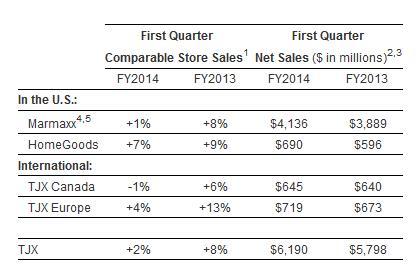 Same-store sales were actually somewhat weak during the quarter, increasing only 2% year-over-year. As with practically every other apparel retailer, management blamed the weak growth at Marmaxx (Marshall's/TJ Maxx) on weather and tough comparisons.
We don't disagree, particularly with the fact that comparisons were incredibly difficult, and we think this short blip could simply push sales into the second quarter. HomeGoods continues to ride the housing wave that helped Home Depot and Urban Outfitters. We could see this segment really take off with an increase in household formation. Europe was also a bright spot for the company—highlighting the resiliency of the off-priced business model.
DOWNLOAD FREE REPORT: Warren Buffett's Best Stock Picks
We may use your email to send marketing emails about our services.
Click here
to read our privacy policy.