It's rare for a developing biotech to trade in a pattern that resembles a more established pharma company with much higher liquidity. When it happens it is reason to investigate.
Since last year, almost to the day, trial stage biotech DelMar Pharmaceuticals Inc (NASDAQ:DMPI) has been trading in a classic bullish pattern of advances, consolidations, and retracements halted by key moving averages. Typically, small biotechs of this sort tend to trade in wild gyrations with obvious volume spikes based on data releases that often fade to pre-breakout levels. A more fluid trend like the one below is relatively rare.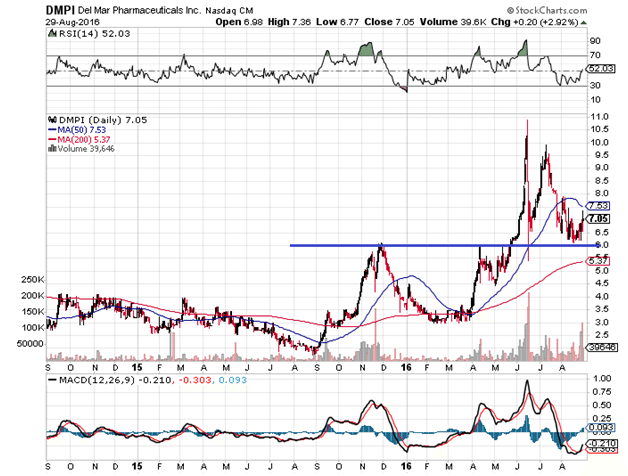 For almost exactly one year now, DelMar has been trading in a three-steps-forward, two-steps-back formation complete with trend line support and resistance (see the blue line) aided by the 50 and 200 day moving averages, with very few extreme volume spikes that took the stock completely out of range, and consistent bounces off oversold RSI measures. This is basic technical analysis 101 of bull trends, patterns that generally do not appear with companies like DelMar due to liquidity constraints. The question is, Why is DelMar trading this way, and does its stock really warrant the pattern shown here?
On the one-year anniversary of Delmar's current run, Market Exclusive has decided to take a deeper look into the company to provide possible answers to these questions. What we found is that, while the risks are considerable, the upward trend may still continue, notwithstanding the 300% run that began last year.
Inside DelMar
DelMar's flagship drug candidate is called VAL-083, or dianhydrogalactitol. It is a chemotherapy discovered in the 1970's with early stage clinical development in the 1980's but never fully developed to commercialization. There is clinical data going back to 1984 for example on 20 patients with medulloblastoma treated with VAL-083 resulting in a stable disease rate of 40%, tumor regression rate of 10%, and a 4-year no progression rate of 20%. Of course these trials were too small to prove anything conclusive, but the data was good enough for DelMar to resurrect the drug for larger clinical trials, especially given that the safety database from earlier trials included over 1,000 patients.
The company is now trialing VAL-083 for glioblastoma brain cancer, seeking to take advantage of and widen a specific market bottleneck for that indication. A Phase II trial has already been completed and has shown median overall survival of 8.35 months over the average 2 to 5 months for other salvage therapies by historical literature. While it is true that the Food and Drug Administration typically has problems with historically controlled studies over the more preferred placebo control, DelMar has already conducted an end of Phase II meeting with the agency, and the FDA has already agreed that the company can leverage historical clinical and non-clinical data to support its New Drug Application. The leniency here is mostly due to the rarity and severity of glioblastoma.