The company's IPO was awful, and its stock followed suit by falling nearly 19% in the first four days of its public offering. Since then, Facebook Inc (NASDAQ:FB) has fallen another 14.7%, however, it is up more than 49% since September. The 18th of May marked Facebook's first birthday. Has it changed in its first year? If so, what other companies have played a role in its success?
Facebook Inc (NASDAQ:FB) has changed in one key area. At the time of its IPO, Facebook did not generate any money from mobile, but just last quarter its raked in $375 million in mobile ads alone. Since its IPO, Facebook Inc (NASDAQ:FB) has been named as one of Fortune 500's top revenue-generating companies, and according to CBS, 70% of its users use the network's mobile platform, and approximately 30% of all revenue is generated via mobile.
Major contributors
Google Inc (NASDAQ:GOOG) controls the majority of smartphone market share globally, with Apple Inc. (NASDAQ:AAPL) controlling the U.S. market. Smartphones aside, what company is looking to grow its market share over the next several years? Well, according to Yankee Group's March Survey, Apple Inc. (NASDAQ:AAPL). Check out the chart below.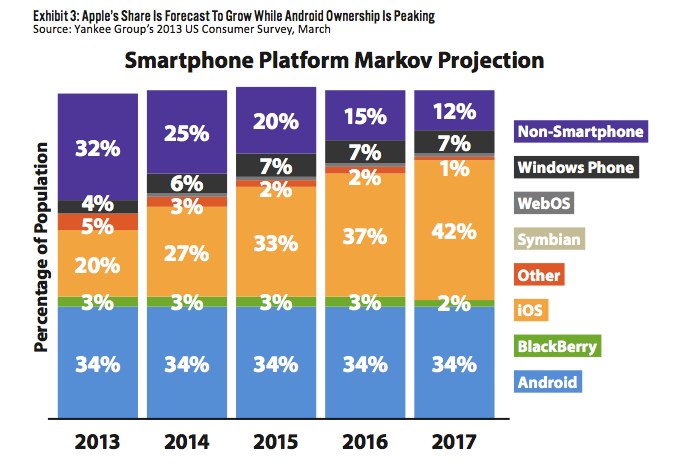 Facebook Inc (NASDAQ:FB) may be more dependent on other companies than it is on itself. Most people believe that mobile is the future. Tablets are expected to surpass PC shipments by the end of this year. It's becoming harder to find old flip phones (or non-smart phones), and Apple's mobile devices accounted for approximately 75% of Apple's revenues in 2012. Why wouldn't mobile be the answer? Apple is nearing 50 billion downloaded Apps from its App Store, but Google Inc (NASDAQ:GOOG) may be catching up slightly. The graph below shows the results of app downloads from Q4 of 2012 to Q1 of 2013.
Android and Apple have provided more mobile app downloads than anyone else around, and Facebook Inc (NASDAQ:FB) is hoping this mobile movement won't pass them by. Online desktop declines have been offset by the soaring amount of mobile users. In fact, in just one year, Facebook's share of mobile minutes has doubled to 22% overall. Last quarter, Facebook experienced a 23% increase from mobile ads – and that figure was 14% higher than the quarter before.
Looking at these figures, it becomes obvious that Facebook needs to focus on mobile revenues. The company has seen revenues jump 7.9% through the past 12 months. But if Facebook had celebrated its first birthday without any contribution from mobile ads, it would have seen only a .5% increase in revenues. So, in essence, mobile apps have directly affected Facebook's revenue by 7% in just one quarter.
Their role
You may be wondering how Facebook correlates to Apple and Google. Facebook needs to maximize its ad revenue on these platforms. Between Apple and Android devices (sold by many other companies), they have established themselves as the two largest mobile players around. Facebook needs to do whatever it can to use these mobile giants to its advantage and gain more of a foothold in the industry.
Facebook's approach
To date, Facebook has used three models in the mobile world. Choke, buy, and imitate. First off, if a company starts to imitate something Facebook does, they end up getting chopped off. The most recent example is when Vine users were no longer able to search for their Facebook friends. Secondly, Facebook's acquisition of Instagram shows its "buy" strategy. By the time Facebook bought the company, it had over 100 million active users. Facebook's response? Pay $1 billion and acquire the competitor. Snapchat and Line have both been copied by Facebook with pokes and stickers. So far, this approach seems to have worked, but will it continue?