The IPO Quiet Period for recent IPO Everbridge Inc. (NASDAQ:EVBG) will come to an end on October 10. Right now, investors have an opportunity to get long ahead of the quiet period expiration and to later sell shares once EVBG's underwriters release detailed reports on October 11th.
When the quiet period expires on October 10, the firm's IPO underwriters will be allowed to publish reports and recommendations of the company on October 11. For the reasons detailed below, I believe that these reports will be positive and that they will boost Everbridge's share price.
Given EVGB's early success on the market, strong, prolific underwriters and solid fundamentals, I see shares of EVBG as an attractive buying opportunity for short-term investors.
Impressive Early Market Performance
Everbridge was priced at $12, at the mid-point of its expected price range of $11 to $13. The stock opened at $15.25 on its first day of trading. It reached a high of $17.55 on September 21. Currently, the stock trades at $16.74 (market close 10/3)-well positioned for an additional boost at the IPO quiet period expiration.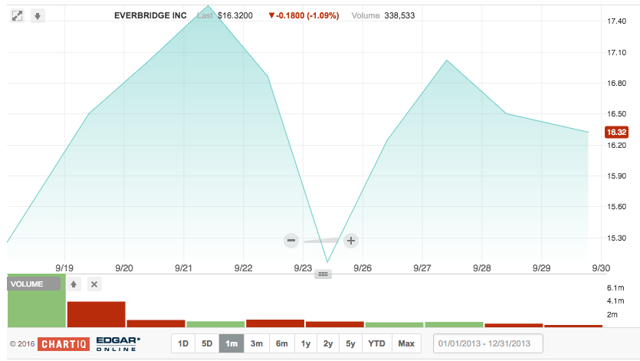 Solid Fundamentals: A Software Company Providing Communication and Safety Applications
Everbridge Inc. (NASDAQ:EVBG) is a software company that offers communication and safety applications, designed to perform during critical events. Its SaaS-based platform enables its clients to deliver messages to large groups of people during times, such as terrorist attacks or severe weather conditions. These are able to be sent in near-real time to over 100 different types of communication devices, across more than 200 countries and in 15 languages simultaneously. In 2015, Everbridge handled 1.1 billion communications.
The company's applications include Mass Notification, Incident Management, IT Alerting, Safety Connection, Community Engagement, Secure Messaging, and Internet of Things. It serves clients in healthcare, energy, technology, financial services, higher education, media and entertainment, retail and professional services industries in the United States, China and the United Kingdom.
In its SEC filings, the company noted the increasing need for preparedness and public safety from a wide variety of critical incidents including active public shooters, IT outages, cyber attacks, and other events. This increase has driven the marketplace to provide secure, scalable and reliable notification systems, especially systems that can communicate over mobile devices. Everbridge also notes that the market for critical communications solutions is expected to grow from $15.6 billion in 2015 to $31.9 billion in 2020.
The company was formerly known as 3n Global, Inc. and changed its name to Everbridge, Inc. in April 2009. Everbridge, Inc. was founded in 2002 and is based in Burlington, Massachusetts.
Follow Everbridge Inc. (NASDAQ:EVBG)
Follow Everbridge Inc. (NASDAQ:EVBG)
We may use your email to send marketing emails about our services.
Click here
to read our privacy policy.
Management Is Strong
CEO, President and Chairman Jamie Ellertson has served as president and CEO since September 2011 and Chairman since March 2011. He has held senior executive positions at CloudFloor, S1 Corp., Interleaf, Tartan Inc., Openware Technologies, and Purview Technologies.
Chief Technology Officer Imad Mouline joined the company in 2011. His previous experience includes positions at CloudFloor, Compuware, Gomez, and S1 Corp. Mr. Mouline graduated from the Massachusetts Institute of Technology, and he holds four patents.
Strong, Influential Underwriters:
Everbridge's team includes world class BofA Merrill Lynch, Credit Suisse Securities, Cannacord Genuity, Pacific Crest Securities, Raymond James & Associates, Stifel Nicolaus & Co., and William Blair & Co. These firms positive detailed research reports have a wide reach around the globe.
Conclusion: Buy Recommendation
The IPO quiet period is a period of time after a company's IPO in which underwriters are not allowed to release research reports on the company. This is based on SEC guidelines. Current research has found a significant potential for above-market returns in the five days prior to and two days after the conclusion of a company's quiet period.
Everbridge Inc. (NASDAQ:EVBG)'s IPO underwriters could positively influence the stock's recent growth through the release of detailed positive reports highlighting its strong performance. As noted above, our research has found above-market returns; particularly for firms with powerful global underwriters like those backing the EVBG IPO.
Given Everbridge's initial success as a public company, its burgeoning industry, and attractive valuation, we expect more good news from the firm's underwriters after 10/10; this catalyst presents a strong opportunity to buy the firm's stock before the event.
Disclosure: I am/we are long EVBG.
Note: This article is written by Don Dion. Visit his site at DRD Investments for expert analysis on current and upcoming IPOs.