It is often said that one of the most important things to a boxer is their corner man. One of the primary jobs of a corner man is to assist the fighter through instruction. Apple Inc. (NASDAQ:AAPL) no longer has one of the best corner men of all time in Steve Jobs, so how will they respond to the fight that Google Inc (NASDAQ:GOOG) is escalating? For investors, this boxing match may be better far more exciting than any Mike Tyson fight.
Source: ValueWalk.
At Google Inc (NASDAQ:GOOG)'s I/O conference, the company hit Apple Inc. (NASDAQ:AAPL) every chance they got. Google's most blatant attack was on Apple's highly rumored music streaming service. However, it certainly did not stop there.
Concerns have been raised about Apple Inc. (NASDAQ:AAPL)'s iPhone sales, and Google Inc (NASDAQ:GOOG) did nothing to calm those that are worried. The new Samsung Galaxy S4 could prove to be a devastating blow to iOS developers. Analysts expect more than 10 million of these devices to be sold by next week.
Announcements were also made for upgrades to Google Maps, which brought back memories of Apple removing the device from its phones. The result was unforgettable for Apple Inc. (NASDAQ:AAPL) users. Let's break this fight down into three rounds and see if there is a winner.
Round 1: Valuation
Google Inc (NASDAQ:GOOG)'s P/E is 15.7 higher than Apple Inc. (NASDAQ:AAPL)'s 10.4, and Google has yet to offer dividends to its shareholders. This may happen in the next few years, as the company currently has approximately $50 billion in available cash, and that figure continues to grow. However, Apple's free cash flow yield is also much higher than Google Inc (NASDAQ:GOOG)'s. Apple's is very cheap at 10.8%, while Google shows 4.21%. In virtually every area, Apple offers shareholders a cheaper valuation, though Google's aren't horrible.
Winner: Apple
Round 2: Innovation
Apple has been under a lot of scrutiny recently for not being more innovative. In fact, they haven't released any new product category since the iPad was introduced in 2010. Google is preparing to release its first piece of hardware with Google Glass, and has received impressive hype for it. Google also released its first Chromebook in February, which retails at a starting price of $1,299. Just as Apple clearly won the valuation round, Google obviously wins the innovation round.
Winner: Google
Round 3: Mobile movement
Mobile is one area that no tech company can ignore. Around 77% of Apple's 2012 revenue was generated from mobile products (iPhones, iPads, and iPods). Approximately 25% of Google's 2012 revenue was generated from mobile products/ads; however, their primary source of income is ads. 60% of their income was generated from PC search ads in 2012.
Despite generating most of their revenues from PC search ads, they have not ignored the mobile movement. We know that approximately 70% of the global market share belongs to Android devices. The two charts below show the recent standings between these companies, and the expected growth over the next few years.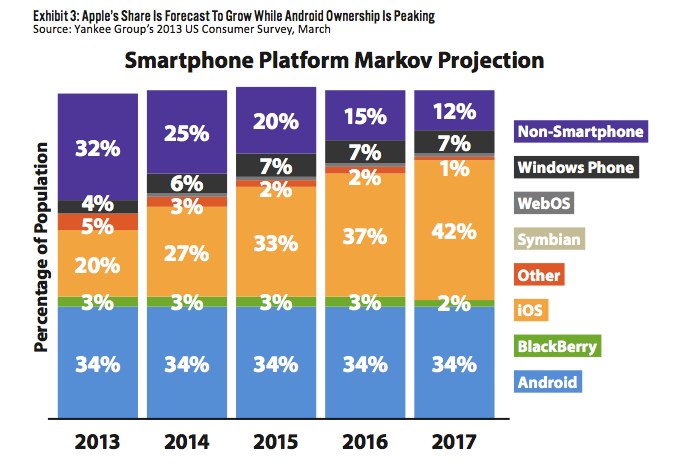 The second chart predicts that Android has plateaued while Apple will more than double by 2017.
Winner: Draw