It's a big market, in need of a shakeup.
So how does PolarityTE intend to cause this shakeup? Through SkinTE, PolarityTE is able to regenerate full-thickness, fully functional skin. It's an off-the-shelf system and at concept level, it's remarkably simple. The company takes a sample of the patient's skin via biopsy, and then imprints the cells in a laboratory setting into a 3D system using SkinTE. The technology then induces what's called polarization, which is the process through which the skin forms. All layers of the skin regenerate – epidermis, dermis, appendages and even the hair that grows from the skin.
There are many applications for this technology, but the lead right now is wound recovery, and in particular, burn healing.
The image below shows the effect of SkinTE in a burn victim's skin between 5 and 10 days after therapy.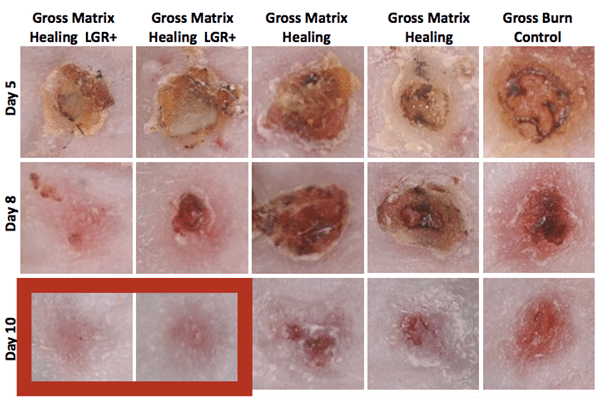 Perhaps most importantly, the system is deployable with third-party scaffolds, which are basically support structures within which the skin grows, and these third party scaffolds are already FDA approved. This feature underpins a near to medium term investment thesis, rooted in the fact that it affords the company potential to partner with some of the bigger names in the space. Any such partnership would likely bring with it an injection of upfront capital, and – in turn – an upside revaluation.
What's beyond SkinTE?
The technology that underpins SkinTE is applicable to a wide range of regeneration fields, and looking longer term, Polarityte Inc (NASDAQ:COOL) has plans to take advantage of this wide scope applicability. The company has already conducted studies of what it calls OsteTE, which is a bone regeneration technology, and AngioTE – a blood vessel regeneration platform.
To bring all this together, we've got a company that just took a quick route to market by way of a merger with Majesco, which has a technology in development that could completely revolutionize the way we treat burns. Beyond burns, bone regeneration, blood vessel regeneration, and more, are viable applications of the technology. Three big name investors are already involved, with a track record of backing succesful early stage biotech companies. There's real potential for substantial upside revaluation near term on the back of partnership announcements, and longer term growth opportunities in the expanded scope of the platform.
It's not risk free, of course. Biotechnology companies, and especially those at this end of the sector, often need to attract operational capital, and this will generally come at a cost of dilution to an existing base. The big returns are made by picking those for which the potential for growth outweighs the impact of dilution on an early exposure, and this looks to be one such opportunity.
Note: This article is written by David Rich and originally published at Market Exclusive.
We may use your email to send marketing emails about our services.
Click here
to read our privacy policy.