Adhering to Trump's agenda could now allow investors to focus on other tailwinds for Ford stock in 2017.
In the context of this article, a Trump stock is one that can see great upside potential because of Trump's presidency. On January 3rd, President-elect Donald Trump threatened to slap an import tax on General Motors Company (NYSE:GM) for importing compact cars (Chevrolet Cruze small cars) to the U.S. from Mexico:
"General Motors is sending Mexican made model of Chevy Cruze to U.S. car dealers-tax free across border. Make in U.S.A. or pay big border tax!"
Trumps pro-manufacturing agenda has focused on convincing companies to manufacture their products within the United States. He has threatened to impose a hefty import tariff on foreign goods entering the United States to motivate companies to adhere to his agenda.
Although this Twitter war was between General Motors Company (NYSE:GM) and Trump, Ford Motor Company (NYSE:F) announced the canceling of its $1.6 billion investment in a plant in San Luis Potosi, Mexico, amidst the General Motors-Trump Twitter exchange.
What made the case interesting for Ford is the manner in which the company managed to avoid being in Trump's Twitter war. This is interesting for two main reasons. The move shields Ford investors from unexpected stock price fluctuation due to a Ford versus Trump Twitter war. And, it allows Ford skeptics to see the myriad of tailwinds that the company has going into 2017 and beyond.
Also Read: Should You Buy Ford Motor Company Going Into 2017?
The Ford stock has not fully participated in the 3-months long bull run seen in the U.S. stock market. For example, in the last 3-months, both the S&P 500 and the Dow Jones surged 5.37% and 9.27% respectively, compared to the 2.99% uptick in Ford stock. Ford's slow stock price appreciation is not taking into account tailwinds for the company in 2017.
Adhering To The Trump Agenda: Ford Is Avoiding Headwinds
Trump is just getting started. He campaigned to bring back jobs to the United States and he is not going to give up on that promise. Therefore, Ford's decision to cancel its plans for a $1.6 billion plant in San Luis Potosi, Mexico, and instead invest $700 million in Flat Rock, Michigan has two advantages.
Advantage 1: Higher ROI in Flat Rock than in San Luis Potosi and dodging the tariff bullet down the line
In the next four years, if Trump decides to impose the hefty tariffs on foreign goods, Ford will have managed to dodge a bullet. Ford will not hike production of cars from Mexico to the U.S. and thus avoid having its margin compressed by higher tariffs. Also, increased U.S. car production will ensure that Ford is no longer dependent on Mexico productions for its U.S. market.
Furthermore, in the event that tariffs are raised, the Return on Investment ("ROI") in the Flat Rock plant in Michigan will be greater than the ROI in the San Luis Potosi plant. Meaning that the $700 million is being well spent and the $1.6 billion investment could be better used elsewhere.
Advantage 2: Bolstering investor confidence
Stock price volatility reduces investor confidence in the stock. For example, even though General Motors made a quick and diplomatic response, the brand is now associated with Trump's potentially hefty Mexico tariffs. This means that whenever this issue comes up, General Motors is likely to be mentioned. A headwind that is difficult for any company to easily shrug off.
Follow General Motors Co (NYSE:GM)
Follow General Motors Co (NYSE:GM)
We may use your email to send marketing emails about our services.
Click here
to read our privacy policy.
This is the same problem Yum! Brands faced in China. In 2013, the inquiry into the use of excess antibiotics and hormones in KFC products by Chinese food regulators greatly damaged the reputation of KFC. The inquiry started in February of 2013 and aided in slashing Q1 2013 and Q2 2013 Y/Y growth rates to -7.58% and -8.33% respectively. The case was later proved to be false, but whenever a chicken-related issue arose, Yum! Brands' stock price suffered. KFC was officially the only chicken company associated with the use of antibiotics. The same threat is possible for General Motors Company (NYSE:GM). This is why Ford dodged a bullet by appearing to support the agenda of the new administration. (Also See: Don't Get Lured By Dead Cat Bounce In Ford Motor Company (F) Stock).
Follow Ford Motor Co (NYSE:F)
Follow Ford Motor Co (NYSE:F)
We may use your email to send marketing emails about our services.
Click here
to read our privacy policy.
Ford Stock Has Many Tailwinds In 2017
Now that Ford's agenda is in line with Trump's agenda, Ford's stock price could be a better automotive bet than its peers. Also, this allows investors to focus on Ford's two main catalysts moving into 2017 and beyond.
Tailwind 1: Ford's SUV and pick-up truck tailwind moving into 2017.
Two months ago, Mark Fields, Ford Motor's CEO pointed to the company's strength being, among other things, in trucks and SUVs.
"We remain committed to our strategy and also our roadmap to grow our business as we expand as an auto and a mobility company. And this includes fortifying and building on our strengths, and that's trucks and vans, the performance vehicles, SUVs, Ford Credit and of course our parts business." – Mark Fields – Ford Motor Co.
At the same time, Ford announced the best October sales in the company history since 2004, with SUV and trucks showing tremendous progress. SUV units volume grew by 25% between October 2015 to October 2016, while trucks were up by ~4% during the same period.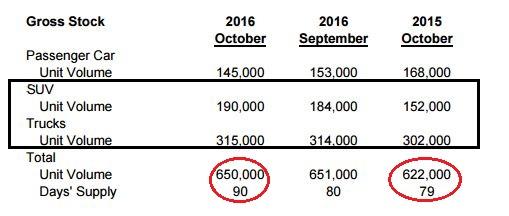 Ford Motor Company (NYSE:F) will experience better sales in 2017 than 2016. Here's why. U.S. consumer confidence climbed to a 15-year high (1) from 113.7 in December, up from 109.4 in November. That's the highest it has ever been since it reached 114 in August of 2001. The post-election surge in optimism could be an indication of higher spending to come for 2017. Now, consumers will want to spend on cars because their cars are getting old, which is reason number two.
Tailwind 2: Tailwind 1 comes at a time when the fleet of cars on the road has aged to 11.5 years with a potential for the average to grow.
According to IHS' new automotive survey, the average car on the road in the U.S. is 11.5 years old. The older the car, the more problems it may have and the higher the cost of maintenance it is likely to give to the owner. In such instances, people are likely to opt for a new car than keep on maintaining the old car. This need to buy new cars can be motivated by the fear of potential maintenance costs of an old car and also of the potential for further rate hikes.
Also Read: Is Europe The Key To Success For Ford Motor Company
Tailwind 3: The potential for a rise in the borrowing rate will force some people to replace their old cars sooner than later.
The Federal Reserve increased rates at the end of 2016 and cited monetary policy supports like "some further strengthening in labor market conditions and a return to a 2 percent inflation." This will mean a steeper path for borrowing costs in 2017.
"New projections show central bankers expect three quarter-point rate increases in 2017, up from the two seen in the previous forecasts in September, based on median estimates." – Bloomberg Markets
Meaning that borrowing costs have potential to surge in 2017, implying that most people would prefer to go for things like cars before rates go through the roof.
Conclusion
The inconvenience of car breakdowns, the aggregate costs of maintaining an old car and improved consumer confidence mean that consumers are more likely to spend more money on new cars in 2017. As Ford Motor Company (NYSE:F) adheres to Trump's agenda (avoiding unnecessary headwinds), and continues to see a surge in sales of its SUVs and trucks while the average age of fleet of cars on the road rises in this optimistic consumer environment, Ford stock will be a good bet.
Looking for great auto sector stocks? Check out Amigobulls' top stock picks (2) from the automotive sector, which have beaten the S&P 500 by over 140%.
The article Is Ford Motor Company (F) Becoming A Trump Stock? originally appeared on amigobulls.com. Watch our analysis video on F.
Amigobulls.com – Watch, Analyze, Invest. Why spend hours putting together numbers you can get in minutes, in one simple video? Our 'Robo Advisor' videos give you every number that matters, in 1 minute. Find insightful articles with ideas on investing, top stock picks that outperform the markets, personalized portfolio analysis videos and a whole lot more. Amigobulls.com – Your Friend On Wall Street.
We may use your email to send marketing emails about our services.
Click here
to read our privacy policy.
Additional Links:
(1) http://www.cnbc.com/2016/12/27/the-associated-press-us-consumer-confidence-climbed-to-15-year-high-in-december.html?ref=il
(2) http://amigobulls.com/stocks-to-buy/top-auto-stocks/?ref=il&ref=im