Last week, rumors intensified regarding mining giant BHP Billiton Limited (ADR) (NYSE:BHP) and the firm's prospective entry into the potash market. Because demand for potash (see image below) tends to be a bit more stable than the company's other resources (namely iron ore), Valuentum can see why BHP Billiton Limited (ADR) (NYSE:BHP) would be interested in entering the market.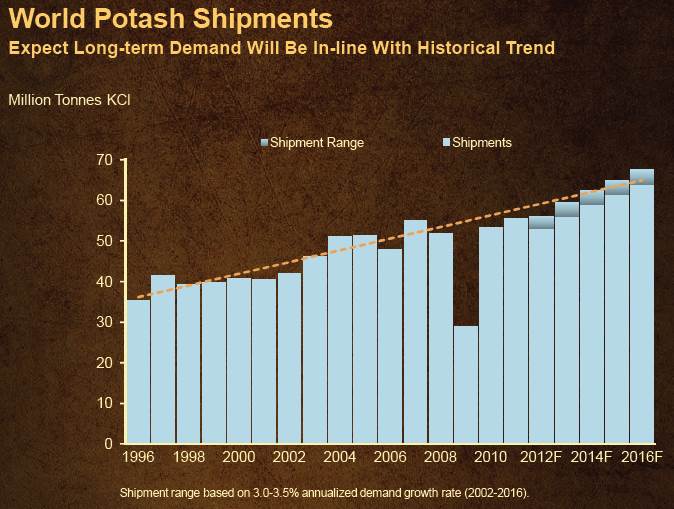 Image Source: Potash

As it is currently structured, the potash market is dominated by a few large players, namely Canpotex and Belarus Potash Company. Canpotex is comprised of Potash Corp./Saskatchewan (USA) (NYSE:POT), Mosaic Co (NYSE:MOS), and Agrium Inc. (USA) (NYSE:AGU), while the Belarus Potash Company (BPC) represents the Russian equivalents. These two producers form a classic duopoly, tending to fix prices and limit global supply when necessary. Though Canpotex, and later BPC, were forced to sign supply agreements with India and China at prices below previous contract rates, the cartels have done an excellent job keeping supply below need. Thus far, we at Valuentum have seen very rational behavior from participants, and potash capacity additions could actually be below some industry estimates.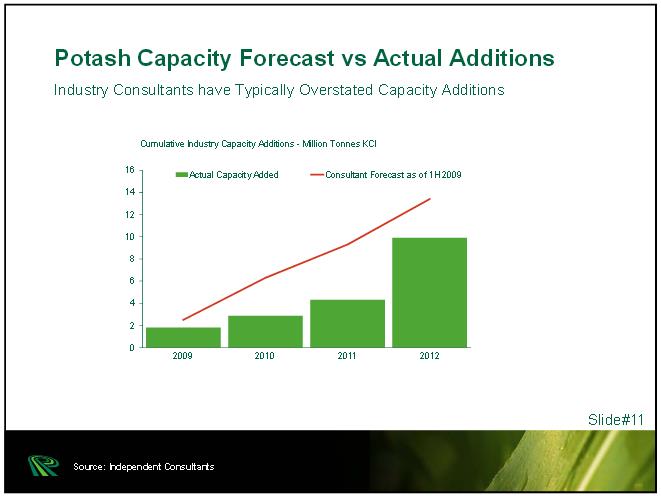 Image Source: Potash
However, India and China, two of the world's largest hubs of potential potash consumption growth, have become dismayed with current potash prices, opting to use smaller suppliers that offer more competitive rates. Fortunately for BPC and Canpotex, smaller players lack the supply necessary to satiate demand in China and India, so contract rates have remained fairly robust.
Clearly, BHP Billiton Limited (ADR) (NYSE:BHP) sees the Asian potash problem as an opportunity to jump into the market. Just a few years ago, BHP Billiton Limited (ADR) (NYSE:BHP) attempted to purchase Potash Corp./Saskatchewan (USA) (NYSE:POT), but BHP's offer was rebuffed by the Canadian government. Potash Corp./Saskatchewan (USA) (NYSE:POT) faces few, if any, substitutes, and its presence can help increase agricultural yields in emerging markets filled with population increases and growing wealth. Thus, Valuentum believes demand for the resource could grow steadily for the decade and beyond.
By no means is BHP Billiton Limited (ADR) (NYSE:BHP) married to its current potash play, the Jansen project, which CEO Andrew Mackenzie has identified as just an option. Mackenzie plans to significantly lower capital expenditures in the coming years, and Jansen could cost upwards of $10 billion. Valuentum thinks the odds of the project increase if BHP Billiton Limited (ADR) (NYSE:BHP) is able to divest more non-core assets, but we also believe BHP could put the project on the backburner for at least the next few years (should potash prices head meaningfully southward). The Jansen project was initially proposed in 2008, and we've seen relatively little progress made. The economics might have made sense when potash prices were well above $500/tonne, but we aren't sure if the project will yield strong results given current prices (below $400/tonne)—as some industry estimates suggest.
Since BHP doesn't plan to join Canpotex, we think the global mining duopoly could be slightly disrupted. Jansen could have 8 million tonnes of capacity (15% of the global potash demand in 2012) and a useful life of more than 50 years, making BHP no small player. In fact, BHP could become a serious player, and the addition of robust supply could eventually put downward pressure on global potash prices—bad for potash producers, but potentially positive for companies such as Caterpillar Inc. (NYSE:CAT) and Deere & Company (NYSE:DE). Lower potash prices could free-up farmer capital to invest in other areas, like machinery.
BHP continues to scrutinize capital-allocation decisions, and it may ultimately decide that betting on potash in the long-term is the right choice. In any case, the next few years seem to be setting up to be a struggle for the global mining giant. As for the potash producers, we like the long-term demand potential for crop nutrients to boost food production for burgeoning nations. Still, we believe Agrium Inc. (USA) (NYSE:AGU), Mosaic, and Potash Corp./Saskatchewan (USA) (NYSE:POT) look fairly valued at current levels. BHP is also now trading in line with our fair value estimate (at the time of this writing).
The article Is BHP Billiton Jumping Into the Potash Market? originally appeared on Fool.com.
RJ Towner has no position in any stocks mentioned. The Motley Fool has no position in any of the stocks mentioned. RJ is a member of The Motley Fool Blog Network — entries represent the personal opinion of the blogger and are not formally edited.
Copyright © 1995 – 2013 The Motley Fool, LLC. All rights reserved. The Motley Fool has a disclosure policy.