– Options activity in Apple Inc. (NASDAQ:AAPL) suggests a limited range for Apple stock.
– Market profile shows similar value area that aligns with the options activity.
– Should you wait till the earnings before buying Apple stock?
Fundamentals appear to have a biased cult following. Apparently, I have to look at a stock in such a way that it always has to show a potential buying opportunity with a rosy outlook for the stock, otherwise, it appears I don't know what I am talking about. Frequent contributors to the site know the feeling.
In an attempt to bypass that, I will focus on what the market participant behavior indicates. Since publishing takes a while, I feel that the following analysis I performed on Apple can be viewed as a case study. What I said would happen with Apple Inc (NASDAQ:AAPL) has happened. Thus it is important for you to understand the reasons behind my analysis as this behavior occurs over and over again.
A Case Study
Ignore the Christmas and New Year rally. It won't happen. Thomas Bulkowski performed the tests. It does not happen. More than 50% of the time the market drifts lower. You have better odds trying to predict heads or tails. This may explain the behavior in the Apple options activity in combination with the flood of recent downgrades.
Apple Stock Analyst Upgrades And Downgrades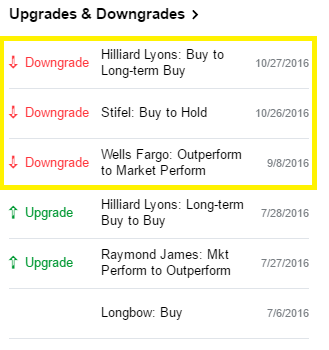 (Source: Yahoo Finance)
Apple Inc. (NASDAQ:AAPL) has limited upside according to the recent options activity. Compared to the other months, over 100,000 contracts were trading at the 115 and 120 strike. This is highly unusual. However, if you are aware of the day and week, it would have cautioned you to wait before you purchase Apple stock. January 20th fell on the third Friday of the month (the expiration day). This meant that volatility was likely to increase as traders unwound their positions. It is possible for the stock to bounce around the $115 to $120 range, or become attracted to one of those levels and hover around until the positions are unwound.

(Source: ThinkorSwim)
Now, we want to peel off the layer a bit and see what type of orders the participants placed. This has to be checked daily to get a better understanding of the market participants' actions. Initial observation reveals that the 120 and 115 strikes are being used for protection.
On the put side, a buy-write strategy is being used. However, there is not enough information to make an assessment for the call side. Since most of you tend to buy stocks, it will be easier to explain buy-writes from the call option perspective. Basically, a buy-write is simultaneously buying stock and selling call options. It is an instant covered call. Given the 100,000 open interest on both the put and call side, it will be prudent to watch the stock and see how the unwinding could possibly occur on options expiration. Do market participants believe there is value in that level or will the stock fall below it? Those two scenarios are possible.

(Source: ThinkorSwim)
For the 120 strike, you have spreads being placed. This means that there is an expectation that the stock may slowly drift higher but will not surpass 120. If these positions were naked, you could conclude that market participants believe that there may be upside in the stock. The expectation for Apple stock does not suggest any up trend anytime soon.

(Source: ThinkorSwim)
Follow Apple Inc. (NASDAQ:AAPL)
Follow Apple Inc. (NASDAQ:AAPL)
We may use your email to send marketing emails about our services.
Click here
to read our privacy policy.
Apple Inc. (NASDAQ:AAPL) reports earnings in the next couple of weeks on January 31st, a Tuesday so no one wants to have a position going into earnings. Thus, the unwinding on Friday makes perfect sense from a risk management perspective. Given the binary nature of the event, it is best to wait until after earnings to consider buying Apple stock.
Additionally, the market profile shows that the $120 area in a long term monthly chart is within one standard deviation of accepted price. Typically prices tend to have acceptance within 1 standard deviation. I went out 5 years to have a view of the bigger picture. The longer the outlook period, the more accurate the distribution areas, which represents the long-term market players. Only a major catalyst will cause the market participants to find a new value area. The catalyst will be the typical growth and radical/architectural innovation opportunities that Apple currently lacks.
Conclusion
With such a strong visual representation of the time and price opportunities clearly identified, it is in your best interest to be patient in entering Apple Inc. (NASDAQ:AAPL) stock. Even extremely long-term traders/investors need to focus on entry. Don't make a costly mistake entering early because of fundamentals alone. You need to take into account the market participants' behavior.
Looking for great tech stocks? Check out Amigobulls' top stock picks, which have beaten the NASDAQ by over 119%.
The article AAPL Stock: Wait Till Apple Inc. Earnings Before Buying Apple Stock originally appeared on amigobulls.com. Watch our analysis video on AAPL
Amigobulls.com – Watch, Analyze, Invest. Why spend hours putting together numbers you can get in minutes, in one simple video? Our 'Robo Advisor' videos give you every number that matters, in 1 minute. Find insightful articles with ideas on investing, top stock picks that outperform the markets, personalized portfolio analysis videos and a whole lot more. Amigobulls.com – Your Friend On Wall Street.
We may use your email to send marketing emails about our services.
Click here
to read our privacy policy.